The freedom fighter and former President of Poland, Lech Walesa, has offered a thoughtful reflection concerning the protests occurring across the Arab world, Europe, and the United States.
Lech Walesa
former President of Poland
In a San Francisco Chronicle op-ed, Mr. Walesa sides with the protesters.  But, he also takes them to task:
What has struck me the most as I have followed the protests on television and in the social media is that the protesters generally know that the status quo should not be tolerated, but are a lot less clear and unified about what they want to replace it with.
What  idea that unifies the protesters?
In the United States, The Motley Monk would observe that there is little if any talk about God-given rights or inalienable freedoms.  Instead, the Occupy Wall Streeters talk mostly about "economic justice" for the 99% and rail against the evils being perpetrated against them by the 1%.  In this regard, Walesa observes:
Today's protests seem more focused on the problems that are plaguing many of the world's advanced economies, with little regard to the impact of government in creating these problems.  What is needed in addition are sound solutions that are mindful of both the effects of government powers and the importance of vital freedoms.  These solutions have to be earned through dialogue between bankers, entrepreneurs, public administrators, labor unions and social organizations….I do not support solely the idea of overthrowing those who are in power.  I support the processes that would lead to new orders guaranteeing individual liberty, democracy, civic virtue, equality and the rule of law.
Absent an inspiring idea to unify people, protests are just that.  Eventually, they peter out.  And then, they die as the protesters depart for their homes dejected that their once glorious "movement" failed under the oppressive weight of the powers they were protesting.  In the end, nothing changes because the protesters—who have legitimate concerns—stood against something but stood for nothing.  Mr Walesa observes:
While today's protesters have many legitimate concerns, let me assure them that instead of either cronyism or greater government control, it is dialogue and solidarity leading to freedom that we should all strive for.

Let's hope that the people can come together to solve our shared problems.  Otherwise they will have to contend with mere turmoil against the status quo without benefit of a clear, rational and productive alternative for a better future of freedom for all.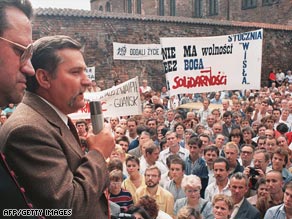 It might be beneficial for members of the Occupy Wall Street "movement" to read Lech Walesa's biography.  He has a few lessons to teach them about hope and change:
Before you set out to alter the status quo, you ought to know how to replace it—and you need to be convinced, intellectually and in your heart, that the new system will actually be better.
Let the discussion begin…
To read the Lech Walesa's op-ed, click on the following link:
http://www.independent.org/newsroom/article.asp?id=3186